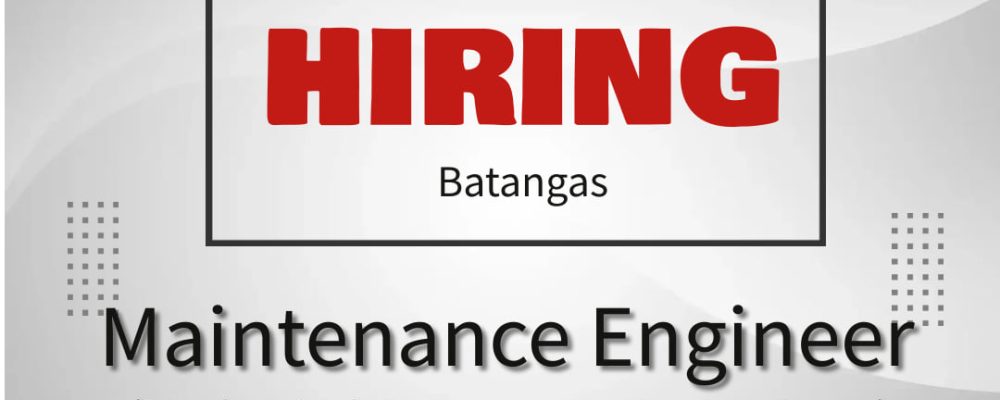 Maintenance Engineers (3 slots)
- Prepare the outage excellence meeting requirements to ensure timely execution and completion of the minor and major inspections of the major plant equipment
- Provide input in the preparation of the department annual plans including budget and manpower requirements
- Periodic review of the Operator's maintenance procedures
- Provides effective and efficient trouble shooting of mechanical
equipment
- Assists the Lead Mechanical Technician in ensuring that schedules for regular test and maintenance of the mechanical systems and assets are carried out to ensure that the terminal is in compliance with company policies and procedures, appropriate legislation and relevant codes of practice.
- Carries out the defined strategy based on preventative maintenance, condition monitoring and risk based assessment for the optimum inspection, calibration and maintenance activities of all Mechanical systems. Included in this is preparing equipment for the Written Scheme of Examinations for the Pressure Safety Systems Regulations.
- Document/record Operator's effectiveness or shortcomings vis-à-vis conduct of emergency maintenance, quality of maintenance works, parts availability, opportunities for improvement and lessons learned
- Document/Record the effectiveness or shortcomings of the transmission line program of activities vis-a-vis contractor's performance, ROW clearing issues, emergency restoration preparedness, qualification of the contractor's personnel and result of annual audit
- Document/Record the effectiveness or shortcomings of the agreed protocol with the Operator vis-à-vis charging of annual maintenance, aggregate maintenance and building and structures maintenance caps and fault rectification threshold.
- Licensed Mechanical or Instrumentation Engineer
- Minimum of 3 years of total operation experience with progressive experience maintaining LNG systems and plant.
- Experience preferred in LNG industry such as FSRU, FSU and LNG Terminals
- Hands on plant maintenance experience
- Has an experience in power plant safety procedures
- Budget reporting
- Contract Management
- QESH
- Preferably residents / applicants from Batangas Province

Fixed Term Employment (1 year renewable)
Batangas, CALABARZON, 4200, Philippines